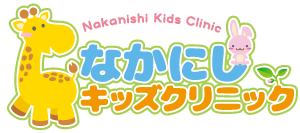 We welcome you at our practice.
Nakanishi Kids Clinic is a pediatric clinic in Yodogawa-ku,
Osaka, just established in June 2015.
Our office is conveniently located on Mitsuya Shopping Center,
and is a 5 minutes` walk from Hankyu Kanzakigawa station.
We provide health care for children from 0 to 15 years old.
In addition to treatingpediatric diseases,
we are focusing on ensuring healthy devevlopment.
Our team member, Dr. Mariko Nakanishi, is a US board certified pediatrician specialized
in developmental and behavioraldisorders such as Autism and
ADHD (Attention Deficit Hyperactivity Disorder).
We are open Monday through Saturday for primary care.
The specialized clinic for developmental consultation is available on Saturday by appointment only.
If you have any concerns about your child's development
and behavior and wish to receive consultation in English, please contact us by FAX or e-mail.

Opening hours
Opening hours
Mon
Tue
Wed
Thu
Fri
Sat
Sun
9:00am〜12:00
1:00pm〜3:00pm


Vaccination・Infant checkup

4:00pm〜7:00pm

From 3pm until 6pm on Thursday.

From 9am until 3pm on Saturday.
Access
Doctor
Mariko Nakanishi, MD, PhD, FAAP (She is available on Friday and Saturday.)
Licenses
Physician, Pennsylvania, US
Physician, Japan
Medical School
Osaka city university Medical school
Residency
Long Island collage Hospital, New York, NY
Fellowship
The Children's Hospital of Philadelphia, Philadelphia, PA
Job Experiences
Attending physician, Developmental and Behavioral Pediatrics,
Children's Hospital of Philadelphia.
Board Certification
Pediatric specialist (American Board of Pediatrics)
Developmental and behavioral pediatrics specialist
(The Society for Developmental and Behavioral Pediatrics, USA)
Degree
PhD Osaka university, Osaka Japan